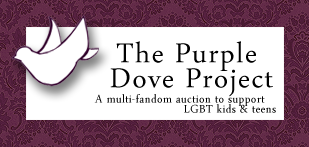 The Purple Dove Project is a fandom auction intended primarily to help combat anti-LGBTQ bullying in schools, in homes, and elsewhere. All winning bids will go to organizations actively working toward this cause, or to organizations actively working to support or promote LGBTQ rights.
User name:

the_azure_blue
E-mail address:
jcthio@yahoo.com
Alternate contact method (optional):
LJ Message
Offer:
Minimum 5,000 because I can't write anything shorter. Any pairing with Robert Fischer. Or gen.
Find examples of my work at:
here
at my journal.
Additional info (if applicable):
I write primarily slash, but I'm willing to try het with either Ariadne or Mal. Or threesomes, moresomes, etc. As for kinks, IM and we'll talk about it. I'm up for just about anything, but I love to write a good dark fic.
Delivery date/method:
By January, via my journal.
Starting bid:
$5
Buy it now price:
$50
Link is
HERE
to bid.